I am always searching for products and services that make being fabulously industrious and godly a little easier. Here are the things that I am loving this month:
BIOSSANCE's Squalane + Marine Algae Eye Cream – I don't know how you have been sleeping, but I have had a tough time getting a good night's sleep lately. However, my eyes do not look like I have been staying up late with my night owl husband and waking up at dawn with my singing toddlers. This stuff is the ultimate cheat code for tired eyes and it actually has lasting effects–unlike other fad-ish eye creams! Moreover, all of the ingredients are people-friendly (no parabens, etc.). I can truly say that the skin around my eyes looks more youthful after using this product on and off for a few weeks now. #MamaForTheWin #WhoNeedsSleep
Pampers Pure Diapers – My two-year-old son is huge (statistically speaking), so he outgrew the Honest diapers before he was mentally capable of using the toilet. This meant that I needed to find a new, chlorine-free diaper that could buy us a little more time. Fortunately, the Pampers Pure (Size 6) and Huggies Special Delivery (Size 6) diapers were both cut more generously than the Honest (Size 6) diapers. Both were also very absorbent (although the Huggies wimped out overnight on multiple occasions). However, my son and I picked the Pampers over Huggies, because the Huggies swell up drastically and giant diapers make wearing trousers very uncomfortable.
And who knows, if Honest keeps playing pricing games with their bundles, we may stay a Pampers Pure house for years to come 😝
Late July Organic Sea Salt Thin & Crispy Tortilla Chips – We used to love dining out before all of the dining rooms closed. Now, my little dining experts are having withdrawals. They miss entering the fancy restaurant atmosphere. They miss the hot bread/chips on the table. They miss being able to order food based on their preferences–not my present refrigerator inventory. To help my little one out, we have been throwing El Tiempo nights, where we replicate some of the fun of their favorite Mexican restaurant. And these chips, warmed for 1-2 minutes in the oven and then placed in a serving bowl, are the piece de resistance. They are perfectly thin, crisp and dangerously yummy–just like our favorite restaurant chips (without any of the grease).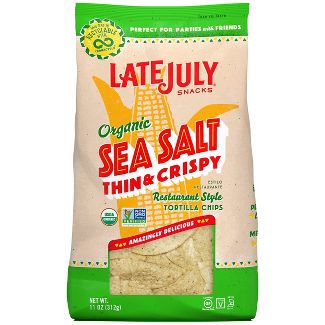 [Honorable re-Mention] The Honest Company's All-Purpose Balm – I mentioned this one last month, before the COVID-19 crisis. Now that we are all washing our hands like crazy, this product needed another shout out. This super balm has successfully treated my dry feet, my husband's dry hands, my kiddos dry cheeks, occasional diaper rashes, and all of the cuts, scrapes, and burns that my Mom would have put Neosporin on—all without causing irritation to our sensitive skin! So, apply this to your chapped hands liberally at lunch and before bedtime and watch your dry skin worries melt away. 🥰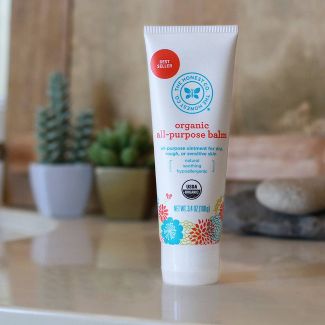 What are you loving right now? Share in the comments below!